What do you do when it's below zero and you want to get outside and play a round of golf like it was summer? It's easier than you think! Just turn a frozen lake into a green. Proving their ingenuity yet again, the Brojects team of Kevin and Andrew strap on their snowshoes and hit the lake for a round of ice golf.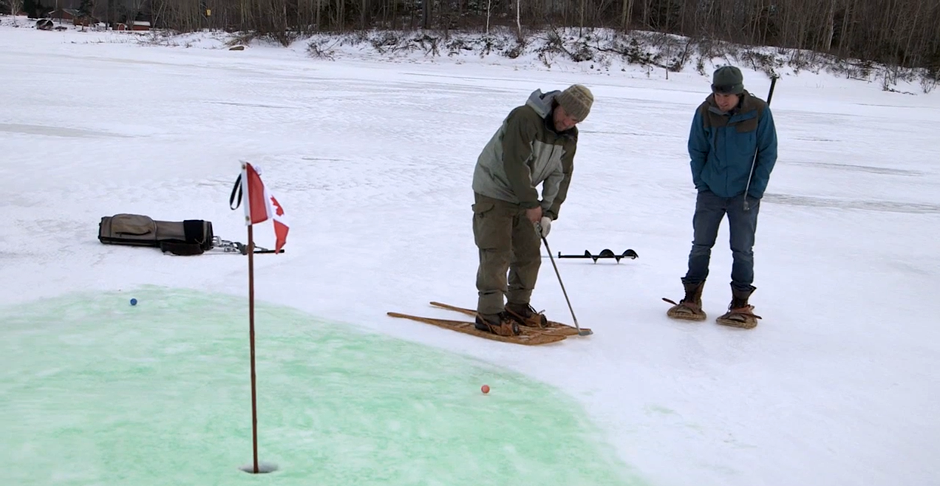 This is an easy project for the winter game enthusiast and a great excuse to head to the cottage during a long, cold winter.
A frozen lake is actually an ideal location for a golf course. The snow banks are like sand traps, and there's a lot of open and unused space.
You can always take a break between rounds and warm up by the fire with a drink if the weather starts to get to you.
And then there's possibly the best part about playing ice golf: there's never anyone asking to play through.
Kevin and Andrew have some super simple steps to follow if you want to make your own ice golf course: drill some holes in the ice, use coloured water and flags so you know where to aim, and let loose.
Getting a good drive while wearing snow shoes is a definite challenge. But it can also help your swing.
Make sure to colour the balls you're hitting.
Trying to find a white ball on ice and snow is like trying to find a needle in a haystack. Although that's one way to add an extra challenge.
Playing ice golf is perfect whether you want a competitive game with multiple holes or just want a small place to practice your putting. Just be sure to bundle up, and make sure the ice is solid and sturdy before you start digging holes in it.
It's a great way to have fun at the cottage during the off-season. As Andrew says, "Why didn't we think of this sooner?"