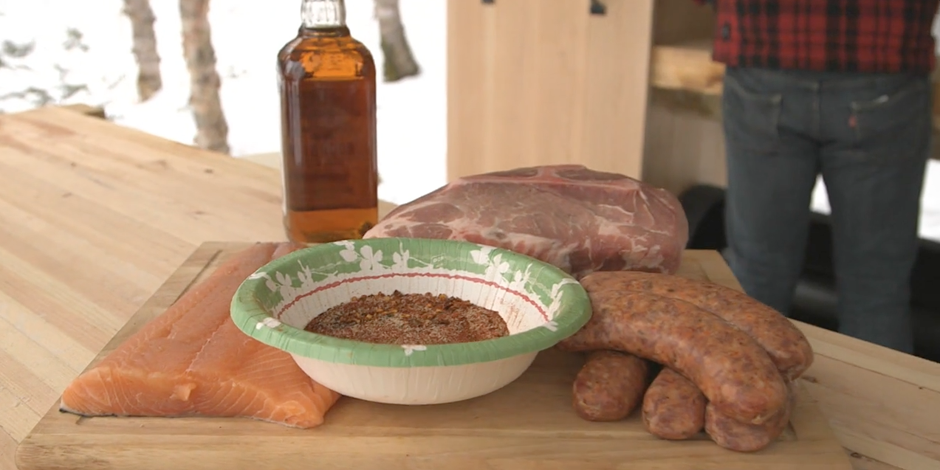 Once you've build yourself the Ultimate Smokehouse, there's a whole world of wood flavours just waiting to be explored. More art than science, smoking imbues meat and other foods with a strong salty flavour as unique as the wood chips, chunks, pellets or dust you choose. You can opt for a light smoke, a sweet smoke or a heavy smoke. Whether you're new to smoking, like Kevin and Andrew, or an experienced 'smokesman', this post is a good place to start. Here is our list of the best wood for smoking meat (and other 'man food').
1. Apple. There are many types of fruit smoke woods, and apple is one of the most used. Apple gives off a mild smoke and adds a hint of sweetness that can be used for all meat.
2. Birch. Andrew and Kevin have a lot of birch around their cottage, which could make this their most used wood. Birch is a hardwood that gives off a flavour similar to maple. So, it's well suited for poultry or pork.
3. Hickory. Possibly the most common hardwood, hickory is popular for a reason. It adds a heavy bacon flavor, which is ideal for pork.
4. Maple. Maple is pretty low on smokiness and adds only a subtle flavour to what you're cooking. It's not overpowering, which makes it ideal for poultry, game birds or salmon.
5. Mesquite. The strongest smoke flavour comes from this popular BBQ addition. Mesquite is great for steak or lamb, where it's strength is a complement and not a distraction.
6. Oak. If you're new to smoking, oak is a safe bet for beginners. It's mild and versatile, going well with beef, pork, or fish.
7. Persimmon. Persimmon is commonly used in restaurants, where its smoke gives the meal a slight sweetness. Enjoy the restaurant flavour at home where the second round is on the house!
This is just the tip of the iceberg. We encourage you to experiment with new woods to smoke, and to mix and match different types to create your own flavours!